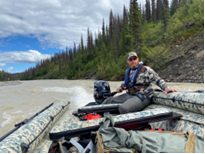 Outfitting in Alaska is essentially a world apart from outfitting in the lower 48. There's simply no comparison when it comes to the simple, run of the mill tasks that one faces in the bush on a day to day basis. The reality for the lower 48 is if it breaks, don't worry, you're not that far from civilization and whatever you may need to fix or replace something. In Alaska everything cost something substantial to get into the bush. Nothing arrives at camp for pocket change, whether it's a pack of bacon or a tank of propane, it all has to come in on the bush plane and this simply runs into thousands of dollars. This being said, things that make it in get used, broken and used again after whatever it takes to get it going again. 
This season was going to see some changes and some goals looked closer to being realized than in past seasons. First we had the addition of a nice new Solar inflatable jet raft that we hoped to be able to utilize the essentially brand new Mercury 25 hp jet motor on. Preliminary testing looked very promising and the guys had already made a couple of nice long runs before season approached. A run of roughly 38 miles on our river is a pretty good run and so we were hopeful that we could utilize the boat on some of the hunts at least, especially for brown bear and moose.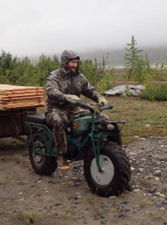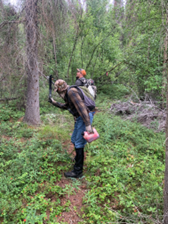 Then there was the close to 5 year attempt to get a trail cut to access the area above timberline right near our base. Essentially we wanted to be able to get into our own backyard without having to use a plane; thus the trail and the Rokon! For those of you not familiar with the Rokon, it is basically a fat tire dirt bike with two wheel drive, in contrast to the regular trail bike being a simple rear wheel drive. The things have been advertised in the back pages of Outdoor Life and Field and Stream since my childhood and we have had a used one in camp since 2016 that has pulled many loads from our airstrip to the cabins. Our goal for the trail was for it to be navigable for the Rokon, so we could haul 50-60 lb. loads in a backpack and facilitate getting gear and or meat between our base and the high country. Our camp sits right at 1,200' elevation and the trail would eventually break out above the timberline at 2,800'. Knocking 1,600' off the moving of gear or meat was a pretty lofty goal. 
Alaska has a way of changing the best laid plans and it just doesn't seem to care whether we like it or not. The boat plans would change on the day we loaded it down to move a camp downriver for a preliminary setup. The 25 hp Mercury would not push a heavy load at all upriver! Three men were fine but not three men and gear! Hands were in the air in frustration but it quickly became obvious that it would take a 50 hp jet to move the raft up this fast flowing glacial river with a 1,000 lb. load, so the boat would have minimal usage in its first season! Then the Rokon trail cutting continued to make progress but then the Rokon started having some breakdowns! At first it was a roll pin on the rear sprocket shearing and every replacement doing the same until I eventually drove one pin inside another and it held and I was able to drive the bike all the way to the 2,200' mark which would knock a 1,000' off our climb, but as we managed to get the trail to the 2,800' mark, breaking above timberline the front wheel drive went down and this time it was in the gearbox. It essentially meant the Rokon would not make another climb this season. Some folks say things have a way of working out, but sometimes things just simply break!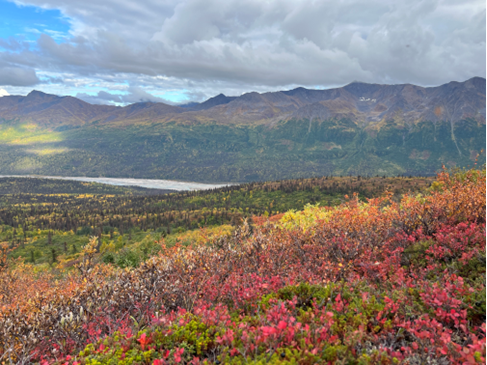 Now my hunter would be a repeat client from 2021. He had taken a grizzly late in his hunt but had passed on an early moose that was legal by brow tines on both sides but probably only 50". He was back for moose and I had spotted a very nice  bull with 5 or 6 brow tines on one side and it was less than 500 yards from where my hunter had passed on the bull a year earlier. Of course we would focus our calling and early hunting efforts in this location but after several days we had heard nothing and we saw nothing but sign. Funny thing was I had spotted another bull up behind the cabin on the day we broke above timberline. I had left our crew of guys and climbed on up to the 3,600' mark looking for caribou and when I came back out of the valley behind our camp and started back down the slope I spotted a bull almost exactly where I had been telling Ed (my partner) I would expect to see a bull. I was 1,000' above it and got several looks at it as I descended the slope, but only through the binoculars as I had left my spotting scope at the cabin. I thought it looked marginal but I had the feeling it was legal. Now we faced decisions after the lack of response from the very nice bull. We considered our options and I decided I would try to get my hunter to go up one evening behind the cabin to what we call the Big Knob. I knew it would be in all likelihood a one time event because it would be fairly grueling for Wayne (my hunter). He had been working out but this would be a good climb for most average moose hunters and by good I mean it would end up being just over 2 miles and a total of 1,600' of climbing! I normally wouldn't even go after a bull that was this distance from camp because of the difficulties of retrieval, but hey we had a trail cut for once in 27 years! 
I'm not sure if it was 4 O'Clock in the afternoon or just a little later but we headed up with intentions to call by 6 PM. We made pretty good time and I put rain gear on reluctantly though it did clear and we had great weather for once. Moving off our Rokon trail a hundred yards or so we set up to call in a small opening on the low bench were I had spotted the bull roughly 7 days before. Birds chirped and a chickadee fluttered close by as I tried to get a pic. We had been there less than 1/2 hour I'm sure when I saw a flash of light color and I immediately thought moose antlers and I called attention to it but no sooner than I had, I could see the wolf step clearly into view. Not really what you want to see when calling moose and I decided shortly thereafter to walk on up onto the bench in hopes of getting a better view.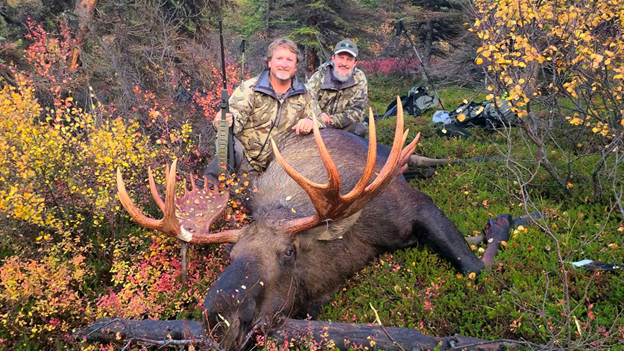 It probably took less than 15 minutes before we (apart from myself and Wayne, we had two apprentices with us as well) were moving across the top of the berry covered bench, headed toward a heavily used game trail that ascended on to the top of the big knob. The view was much better with openings on the opposite main slope visible to us and the old beaver dam and grown up ponds partially visible below us. I paused right as we intersected the game trail and sat down to call. It could not have been more than 45 seconds, or at least it seemed that quick to me, but the quiet grunt of a bull came up from what I thought was the wooded area across from the beaver ponds, and it seemed several hundred yards out by the volume. I alternate so much between using my mouth to do a cow call or bull grunt I can seldom remember which was the last I used but I'm pretty sure I did a long cow call and then the grunts died off! Time gets blurred at this stage and though it seemed like a long span of silence, it was probably less than three minutes and he was there; right in front of us, around 70-100 yards below, but close enough to shock me! I was caught off guard because his grunting had seemed to be in the distance, but apparently it was just subdued in volume and he must have been far closer than what we had first imagined.  
Game Management Unit 16 B has a 3 brow tine or 50" width requirement and I quickly had the binoculars on him to verify brow tines if possible, but a nice little spruce was doing a pretty good job of getting in the way, not to mention we were being stared down and a decision had to be made swiftly! I counted several times and couldn't get beyond two on each side but I was getting a very close look and I was convinced the bull would make the 50" mark so I told Wayne who was ready to get into position as soon as I gave the word. It was intense, as is often the case when a bull is right in front of you and you know he can keep coming closer, or he can swing around and bolt for cover. The bull turned to our left and presented about as perfect a shot opportunity as one ever can hope for and Wayne shot! He sped up and we told him to keep shooting and several more rounds were fired before the giant of a beast crashed like a huge spruce into the berries!
It never fails to be an impressive event when one walks upon an Alaskan moose after the shooting has stopped. An incredible animal was on the ground and as always I marveled at the size of this magnificent creature, as I'm sure Wayne and the apprentices did. The bull would be the only one in my 27 years that had fallen in a great spot, that is a spot without water or knee deep mud! Not all had been in horrible places but this was certainly the nicest location and we were less than 300 yards from the Rokon trail. The sad thing, of course the Rokon could not make it up the trail without the front wheel drive and we were two miles from the cabin! Oh how simple it could have been! Ha! A 30 minute trip with the Rokon and 50-60 lbs. on my back and the bull could have been taken care of easily in a day, but alas it would be a grueling couple of days for my apprentices and on the last trip the grizzly would conquer the last of the meat and chew an ear off the cape, which fortunately was recovered, though it will be awhile before I know whether the taxidermist can salvage it or not. 
The bull was legal, the trail was welcome, the Rokon being down was lamentable, even as the underpowered raft was, but Wayne was successful and his brother Keith would take a wolf from essentially the front porch of the cabin a few days later so we felt one more moose or caribou would have another opportunity for another fall! At the end of the day, things break down, plans fall flat, but by the grace of God effort is still rewarded!