Revelation Mountain Outfitters is an Alaskan outfitter making your frontier hunting dreams come true.
Revelation Mountain Outfitters is an Alaskan outfit owned and operated by Master Guide Tony Dingess and his wonderful wife Renee. RMO specializes in hunting the great Alaska brown bear, Dall sheep, and trophy moose. Other species, including caribou, black bear, wolf, and wolverine are available on a customized basis. We strive to provide the epitome of the Alaskan wilderness hunting experience for the bowhunter, rifle, and handgun hunter.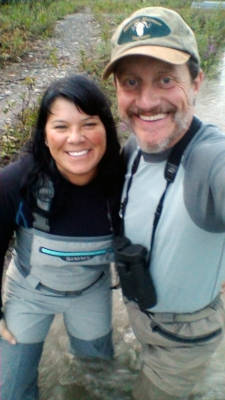 As Master Guide 214, Tony Dingess is certified to conduct hunts in Game Management Units 9, 14, 16, 19 and 21. These areas represent a vast array of different Alaskan ecosystems, from glaciated mountain ranges to the pumice covered cinder blows of the Alaska Peninsula, covering vast portions of the Chugach and Talkeetna Mountains, as well as the Alaska Range and the Aleutian Range, which is dominated by volcanoes and torrential weather systems. We are pleased to be able to offer an experience for just about everyone that can typically be customized, and will always be unforgettable. This is our business, and we are committed to ensuring that you have a fair chase hunt in prime country with top-notch professionals that hold the ethics of the hunt in the highest esteem.
Tony and Renee are both devoted Christians and for them this is not about religion, but relationships. They recognize not only the importance of family values, but look to the Spirit of Christ and the Scriptures as the rule of life, and the true source for all ethics and values! Their desire to run top notch camps, and to excel in everything is rooted in the simple scriptural text; "Whatever you do, work at it with all your heart, as working for the Lord, not for men." They encourage other Christian sportsmen to consider hunting with them, and of course all hard working hunters are welcome in their camps, though they do not have accommodations for female hunters. Whether you hunt with bow, rifle, or handgun, They can customize a hunt to suit your needs and hope you will hunt book your next hunt, or your first Alaska adventure with them soon, but for now we hope you enjoy the site