Barren Ground Caribou
While the barren ground caribou bull rates as one of the most beautiful game animals in the world, especially when he sheds his velvet, and the winter coat turns chocolate brown, and the mane turns snow white, I doubt any hunter is going to claim that they are possessed of any great intelligence. The difficulties of the hunt revolve mostly around terrain, weather, and simply finding the game.
As a stand-alone species, we offer caribou only in 2 hunters per 1 guide options or we can offer them in combination with other species. We are encountering some fantastic bulls every season but hunters should understand we are not hunting huge migrations, but small resident herds in the mountains, and for the most part these bulls receive very little pressure at all! Of all the big game animals in Alaska, the caribou represents your best shot at getting a real trophy animal, and even the average caribou appears spectacular to many Alaskan hunters, and truly they are very impressive animals. Well suited for bowhunters, and pistol hunters, they are in most everyone's opinion the easiest of all Alaska's big game. This doesn't mean that it is okay to be 200 pounds overweight, for even caribou require work.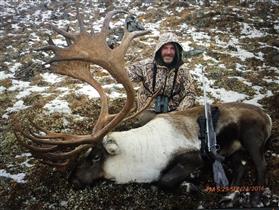 Black Bear
Black bear can be taken readily in the Western Alaska Range. GMU 19 has an open season in our sub unit with a limit of 3 bears per hunter. GMU 16 B also has an extremely liberal season with opportunities for multiple bears. Black bears are often available in other areas that we hunt on a trophy fee basis. We are currently offering black bear on a 2 hunter per 1 guide basis, and arrangements can be made for larger groups with 1 guide as well, and it is often possible to take 4-5 bears from one camp without the use of baits, but all spot and stalk. This is a great family hunt opportunity!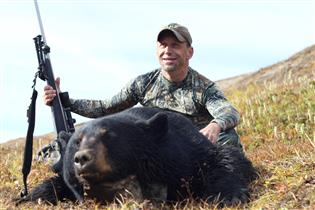 Wolf & Wolverine
There is always a chance of taking a wolf, or wolverine depending upon where a particular hunt is being conducted. Revelation Mountain Outfitters is also a legal license vendor for the State of Alaska, so tags are always available if the opportunity presents itself.