Practical Advice when Hunting Dall Sheep
Get ready! that's the first thing I can think of to say, and so I will say it again, get ready! Sure you laugh but you probably shouldn't laugh too hard, for that oxygen will probably come in handy later on. While i have written elsewhere about preparing for a wilderness hunt I have to tell you in all seriousness you need to think twice before coming to Alaska to hunt sheep, maybe you should think far more than twice. While I am not in the business of trying to scare anyone away from pursuing the great white rams, I do pray that I could say something that would get every hunter to take the preparation more seriously. You may be very fortunate, and you may even take that ram without too much trouble one day one, but two of the last hunters I have had that took a ram on day one ended up being in quite the predicament before they made it back to camp.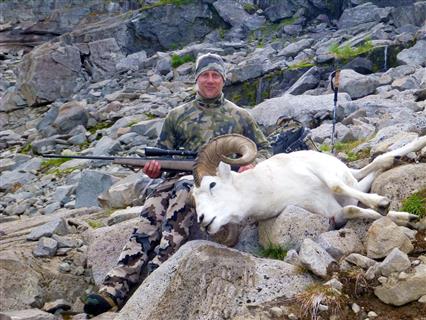 Prep yourself mentally, and in my opinion the best way you can do this by doing some extreme things, such as death marches in tough places, heavy load packing with the pack you will be using, sleeping in your actual sleeping bag in as bad as weather that will come close to proximating what you will encounter in the field. Get wet and stay wet for awhile and decide what really works for you as far as rain gear goes. Get some blisters, and for goodness sakes quit using the elevator! If you can find 1,000 ft. slopes to train on then by all means do it and do it as much as possible with your actual boots on. Don't skimp on gear, especially since you are paying a good chunk of change to do this hunt, you should not try to cut the corners by buying gear from Walmart. When I recommend a Thermarest sleeping pad and tell you exactly what kind, don't think I am getting paid by Thermarest. I have been using the same pad for around 15 plus years!
Lose the mid section, yes you read that right. You probably are wasting your time and ours if you come into our sheep camps packing thirty extra pounds around your mid section. This is just harsh reality. I am 6 ft. 1 inch and a medium build guy, and I consider sheep weight around 175-183 lbs., so don't come into camp weighing 230 lbs. and you are shorter than me and a medium build and expect to succeed with flying colors. Granted you may just be the toughest hombre that ever lived, but the odds are not likely. We don't really want to bust anyone's bubble but that is precisely what sheep hunting in Alaska can and often does. Also be realistic about what a trophy ram is, seeing this isn't whitetail hunting and there are not hundreds of thousands of rams taken every year in Alaska, but an average of 800 or so. Also bear in mind that only 2 to 6 percent of the sheep population will be full curl rams (at least this reflects ADFG surveys) so it isn't like hunting grizzlies where every bear that doesn't have cubs is legal, or even moose where virtually every bull that hits 3-4 years old will achieve a legal 50 inch requirement. But rams have to live a long time before they will ever reach this legal age, thus many of us who have been in the business for years will advise hunters to not be quick to pass up a legal ram when they come across one. Having your sights set on a forty inch ram is okay, but be realistic, look at the harvest data, realize that it is a very high mark to set your sights on. We have seen some great rams come out of the our area in the Alaska Range West including rams up to 45 inches in length, and we have had a client harvest a 43 inch ram as recently as 2016 that missed Boone and Crockett by just a 1/2 inch. That being said a hunter has to decide if he has the means to hunt Dall sheep repeatedly, or if his hunt is going to be a once in a lifetime adventure and obviously this has to be considered when one is considering passing up a 35 inch ram. If you have booked with us, or you are a hunter seriously thinking of pursuing Dall sheep in Alaska then take my advice and start the training as early as possible, start shooting out to 500 yards, start ditching the excess weight, eating the protein, working the heart and lungs and testing your gear in every way you can. Then my friend you can look forward to actually enjoying your time in the wilderness in pursuit of one of the greatest trophies in North America!