It is difficult to avoid the situation where it looks like I'm the old man ranting about the younger generation and honestly I probably haven't made that much of an effort in the first place! As much as ranting about politics or heretical doctrines may have been a major part of my personality in the past I do try to keep these flare ups subdued these days. My point may seem to be lost and this article really isn't about the younger generation, rather it is a simple encouragement for the man who chooses to hunt Alaska.
It seems to me that the very obvious trend in this country is toward an excessively soft lifestyle. Comfort is the key word and jobs seldom demand anything from men physically, or at least not the average man who may be able to afford an Alaskan hunt. Obviously money can't buy everything and health is one of the most apparent things it cannot acquire. So we see, very often, the man who would hunt Alaska, also being the man who is not in a position of stepping up to physical challenges. Unfortunately it is a problem that isn't easily overcome because many guys just can't find the time to do something different so I am intending to point our prospective clients in a direction that can make a difference.
First let me generalize a little with ideal weights per body type. Keep in mind it is a generalization.
I'm 6'1" and a medium frame body type. Though I was barely 165 lbs. when I entered Army basic training in the 80's I usually am in the neighborhood now of 192 lbs. I have been to 212 lbs. and my ideal weight is 178-180 lbs. This is the weight that I feel really good with going into sheep country. If I was 225 lbs. I don't think I could personally guide a physically conditioned sheep client. I would personally feel miserable ever being back at 212 lbs. again.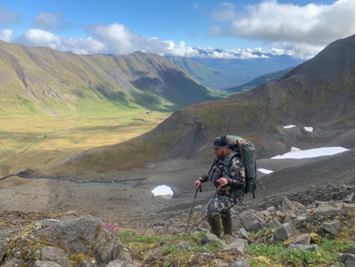 I'm just going to list some heights/body frame types/ideal weights. 
6'/medium frame/175-185
5'8"/medium frame/155-175
6'/large frame/195-225 
6'3"/large frame/225-245 
I could go on but I am not trying to make anyone feel bad, and I confess I am not where I want to be at this moment. My point is simply a basic goal/reference for what is pretty close to a logical goal for a hunter who is serious.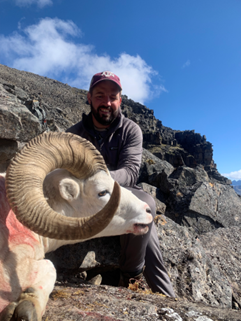 Now let me break down in simple terms what I really think you should be able to do physically for a given hunt. 
Sheep Hunt:
Climb 2,000' elevation in a day.
Climb 1,000' elevation numerous days. 
Be prepared for completely unstable footing. If you haven't packed 35-70 lbs. over very difficult terrain for distances of day five miles or so, then you are going to be in for a physical shock.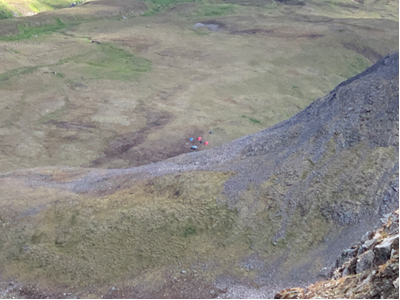 This season I experienced the easiest sheep hunt of my career and it basically breaks down as follows: landed at 3,700' on August 9th, ascended up to 5,000' the next morning (basic 1,300' climb up 45-60 degree slope of mostly boulders), dropped around 200' and glassed 2 rams at less than 200 yards. Got client into position and took the one full curl ram. Easy time with 5 of us working and packing it back to camp well before evening. Compare this with the last day of a sheep hunt a couple of years ago with a persevering client; had moved from the 3,700' camp on day 8, crossing the same 1,300' slope. Spiked in a two man tent with very minimal gear, spotted 4 rams over 1,000' above us late in the evening on day 8 and after getting burned on one stalk after these rams, we ventured up a delightfully hair raising climb to pursue them again in the afternoon (after one showed himself for 20 minutes) and before it was over we had what I calculated to be 4,100' of climbing under our belts. Descending the same as well, this would be the most difficult day I can ever recall, at least as far as climbing goes. The client told me his running of a marathon wasn't remotely comparable to that day. Not trying to scare guys away from sheep hunting but you better ask what you need to do to get physically and mentally ready and take our advice seriously. 
Moose and brown bear can be simple at times and we can cater a hunt to some degree to a client with limited mobility but if you want to avoid the disappointment that comes from not being able to get to the better camp you have to make the efforts. Mind you I have hunted places for bear that a lawn chair was perfectly suitable, but even then a bear can present itself and go the other direction and if you are not physically ready then what are you going to do? We can get a physically challenged moose client into several easy places with real potential, but if it doesn't pan out after several days and we need you to hike 2 miles and climb 800' up to a lake, what then? 
Outfitters in general are wanting clients to succeed! This is what our continuing business depends upon, and once again, I don't want to sound like the old man ranting to clients who are very often younger than myself, but take the gear list serious and do something physically to help your chances to prevail. 
My recommendations? I'm not an athlete or a personal trainer, but I can tell you nothing is probably going to help as much as actually hiking over the most difficult terrain you can find (yeah I know the city dwellers often are at a disadvantage here) and do it with 20-40 lbs. in your pack. If nothing else, do it in a stairwell as fast as you can. Cardio is important and building lung capacity takes effort. Use the $300 mountaineering boots before you get to Alaska and if you are coming for moose or brown bear get the Simms G3 wading pants for goodness sakes and the boots and get your mileage in them. Alaska is not the place to try them on for the first time!
If you are seriously wanting to prepare yourself for success in Alaska then start by addressing the 30-40 extra lbs. most American men have around their waist. I can tell you that not many men can overcome the difficulties of getting around in the bush if they don't make the necessary cuts! Set some serious goals and maybe you can't knock off the 30 lbs. but if you can knock off 10 lbs. that's better than just thinking more highly of yourself than realistic.
Finally I can't stress enough the need to have realistic expectations for your Alaska hunt. Game density is not even close to what is often encountered in the Lower 48 and if you can't get around you are all the more limited. Guys setting the goal for a 40" ram is like expecting to shoot a 30 point non typical whitetail in your backyard! I've seen a handful in 27 years of sheep hunting and I encourage clients to consider carefully whether you really want to pass on a legal animal you are pursuing. Ten day hunts are designed with your benefit in mind, allowing for weather delays, weather in the field and possible camp moves, but at the end of it all if you quit early you are simply missing out. There is no substitute for hunting hard and going the duration! I've had guys quit in the middle of a hunt and fly right by a legal bull moose off the end of the runway because they just had messed up expectations and that same year I had a client shoot his bull from the tent on day 10. There's no reward for quitting anything in this life and certainly it applies to hunting Alaska!
Expect it to be tough, and you will be rewarded during your time in the field. Good things do come to those who keep at it with patience and don't allow pessimistic thinking to throw you off track. A number of years ago a nice client said to me "I just don't think there's a legal ram in this area" and I was really somewhat astonished at the illogical reasoning that was diminishing his hunt. We had seen around 50 sheep that day including 7-10 rams, which is in my experience a lot of sheep and a lot of potential. The reality was far from his conclusion but people quit all the time because of faulty logic. Listen to your guide, rely on his instincts and the experience of your outfitter and most of all prepare to enjoy an incredible wilderness experience and don't let the wind, rain or any other circumstance get in your way!