The most important word in the sheep hunters gear vocabulary is "light." When everything else is taken into consideration for a sheep hunt, one still has to look at that backpack and say "can I make it lighter?" Lightweight is the essence of sheep hunting gear, and individuals have to determine logically where they can save an ounce, and where they should avoid it.
Tents For the Mountains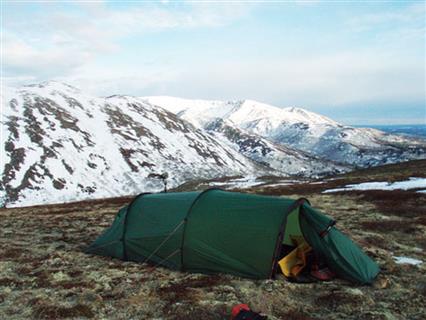 Tents, for instance, fall into a large weight spectrum, some tents weighing in around the 3-pound range and others weighing considerably more. Right now we are using Hilleberg tents, but we have used tents by Moss, Wild Country, Eureka, North Face, and Kelty, and have had satisfactory results with several models. Eureka built an expedition tent in the late '80s to early '90s called the Sentinel which I loved, and I still have it to this day. The Wild Country tent I have experience with is quite similar to the North Face tent we used for years, and I found it to be quite dependable. The things I look for, are adequate room in relation to party size, and this is relative. For instance, the North Face Evolution 45 is capable of sleeping 4 men, but I would not want to do it. It is perfectly fine for 3 men in my opinion, and spacious for 2, but it is still listed as being able to sleep 4. Other features that I look at, include high-quality aircraft grade aluminum poles, plentiful guy out points, and full bathtub floors. For those of you not familiar with bathtub floors, it denotes a floor that is constructed in such a fashion that it rises up on the wall of the tent a considerable distance, usually between 6-12 inches, in contrast to normal tents, where the floor typically is sewn to the wall of the tent at the juncture where they meet the ground itself. Continuous pole sleeves are very nice, and preferably they have some allowance for the wind to pass through. Vestibules are almost an absolute must for long term camping comfort. A full fly, that comes all the way to the ground is another must. Personally, I prefer a tent with at least 30 square feet of floor space, and I prefer this in a rectangle, rather than the round floor pattern of a pure geodesic dome. There are arguments over which is the most wind resistant, but all of the top-notch expedition tents I have used, are low profile in nature, and handle wind quite efficiently.
My favorite at this time is the Hilleberg Kaitum 2, though it only has 31 sq. ft. of inner space, it has 26 extra sq. ft. in the 2 vestibules, which allows for some person gear, even your pack if necessary, or I can easily use the Whisperlite stove in the space when the weather makes it too difficult to cook outside. The Kaitum 2 weighs in at under 6 lbs. minimally packed (without bags, or stakes), and 6 lbs. 10 oz. with bags and stakes, and quite often we simply use rocks to guy out the tent, since stakes seldom penetrate the rocky ground we routinely pitch the tents in, nor can they be trusted in the high winds.
Backpacks
The great debate over what type of pack is best, external frame, or internal frame is not all that great of a debate in my sight. I will say that I swear no allegiance to either, but I simply will use what is comfortable for the situation. At this time I am using a Mystery Ranch G7000 internal frame pack. I have mostly used Camp Trails custom type externals in years gone by, and I have had only a few complaints. My main complaint about external frame packs is the fact that they do not ride extremely well when navigating the dangerous terrain. With a load, externals tend to shift and sway on the back, and the frame itself is a deterrent to getting around outcroppings on a bad slope. Normally this is no big issue, but it can be when trying to weave your way the through narrow chutes and ravines common in sheep country. The second part of this handling gripe involves descents down severe slopes, at which time the bottom portion of the frame is prone to get hung on the ground behind an individual, thus making for some interesting scenarios. Apart from this, my only other real complaint about externals is the average weight and the difficulty of busting through thick alders with the frame catching everything in sight. The Cabela's Alaskan Outfitter Pack with Frame weighs in at a staggering 12 pounds 8 ounces empty and only has a limited capacity of 5,300 cu. in. in comparison to my Mystery Ranch at around 8 lbs. and 7,000+ incredible cu. in. of capacity. My recommendations for a pack for moose or caribou might lean toward an external frame, but I am convinced at the moment that I can carry the same load in my internal that I have carried in externals in the past, with the same amount of relative comfort. My recommendations for sheep and goat hunting will likely lean toward quality internal frame packs with capacities near 7,000 cu. inches.
Kuiu Icon Pro 7200 is also worth taking a look at, and I am giving strong consideration to taking one into sheep country soon. Their packs are substantially lighter than most, and from what I have seen up unto this stage I can't complain.
Boots for the Mountains
Apart from some sort of weapon, I doubt any piece of gear is as critical to the average sheep hunter as the boots on their feet! I don't believe anything will ruin a hunt faster than bad boots, period. I have worn Vasque Sundowners in the past before I tried synthetic mountaineering boots, and I wore a pair of Vasque Sojourners in August of 2003 for about 5 days, then switched to my Koflach Degres. The Degre is a very nice synthetic boot in my opinion, and not excessively stiff, which my flat feet cannot tolerate. I was able to sidehill across some hardscrabble slope that I had taken a spill on while wearing the softer leather Vasque boots earlier in the week, and the Koflachs simply cut their way across the slope in a superior fashion. Over the years I have seen guys wear every type of boot you could imagine, including Schnee pac boots. I am sure there are Sherpas that could stand to hunt sheep in bare feet, but I recommend synthetic boots if you can wear them, and apart from this, I can only recommend top-notch leather hiking boots. Some guys swear by the Meindl boots that Cabela's offers and they appear to be a decent leather boot. The main thing, and I repeat, the main thing is to put whatever boots you have through some thorough testing before bringing them into sheep camp. Individuals interested in synthetic boots should look at the Koflach, Asolo, Scarpa, and Lowa, and for those who prefer a lighter boot, I am very pleased with my La Sportiva Trangos which have become my boot of choice for sheep and most everything else I can get by wearing them! The mountains of Alaska are no place to test boots after you have invested a considerable sum of money into a sheep hunt.
Keep in mind that companies that have focused on mountaineering boots for decades are much more likely to produce a great mountain boot than a company trying to sell you a "hunting" boot!
Sheep Rifles
I will first admit that I have packed a .458 Winchester Magnum, Brno Model 602 as my sole rifle for almost my entire guiding career in Alaska. All this changed in 2003, I converted the Brno to a .458 Lott, and yes I packed this rifle in sheep country, as was my custom. My conversion came in part due to age, and to the embrace of the lowly walking stick as an essential tool for getting around in the mountains, and now I carry a Model 8400 Kimber Montana in .300 WSM which weighs in at 6'lb 2 oz. before the 13 oz. scope. Before long I will switch this out with the Model 84 Montana in .308 which is a pound lighter, and honestly, if I could bring myself to spend the additional cash I would go with the Kimber Mountain Ascent in a .308 at 4 lb 13 oz.
In my mind, a sheep rifle should be in the .270 caliber and up, with a good 22-inch barrel or up, yet under 7 pounds with a scope. I know this is not easy to come by, but this is still in my mind what it should be. A 3×9 scope is probably sufficient for most every circumstance, and personally, I would prefer stainless, unless the blueing was very good, like that on my Brno, then it doesn't really matter to me. Ultimately I would probably prefer a synthetic stock for a lightweight rifle, since the swelling of wood can be a problem without using full-length bedding, and this only increases weight