Sheer cliffs, glacier crossings, and dreams that can come true!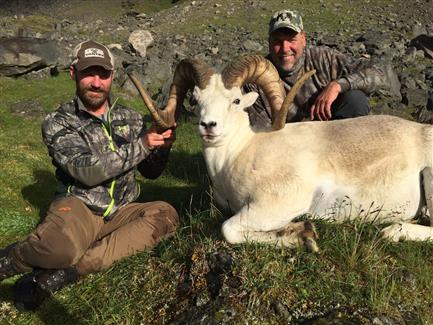 Dall sheep hunting is what I cut my teeth on as an Alaskan guide, and to this day it is still an addiction. Sheep hunting gets into the blood and a large part of it is simply the country, at least it is for me. The hopes of seeing the grandfather of all sheep inspires me as well! Dall sheep hunting is not for everyone, make no mistake about it. High mountains, threatening rock slides, sheer cliffs, and on and on and… you get the idea! Now don't get me wrong, because it is occasionally fairly easy to get a respectable ram, but most of the time you will get pushed beyond any limits that you may, or may not have set for yourself. Sheep hunting is conducted from small two man tents in spike camps that typically lack any of the comforts of home, or of moose camp for that matter. Glacial water to drink, cook with, and bathe in, if you like the 38 degree temperatures. Usually we use nothing more than a small fuel stove for all cooking, and the cuisine is usually freeze dried delights. All in all, it is tough conditions, and tough hunting, but if you are in decent shape then don't fear; the opportunities are awaiting. I typically tell guys that they should be able to hike with 50 to 60 pounds of gear over 5 to 6 miles of rough terrain before they consider a Dall sheep hunt, and this is a pretty good rule of thumb. While we don't run around with this kind of weight on our backs while hunting, this is typically what we go into camp with, and if successful, then the return trip out can involve 70 to 80 pound packs. In my opinion it is not a hunt for those who are in intermediate condition. Pre-hunt conditioning should be par for the course for anyone considering this type of hunt.
We have averaged close to 100% on sheep over the years with only a couple of clients in our business history not getting an opportunity on a ram. Some guys have missed the shot, while others gave up the hunt simply due to the severe nature of sheep country, but all in all we have taken our fair share of 37″ + rams.
All of our hunts are currently being conducted in the Alaska Range West and we are seeing good numbers of sheep, and rams are being taken in our main areas of interest from 34″ to 45″s, so nothing is out of the question!