Learning the ins and outs of spring brown bear is not an overnight adventure, in truth it may take one decades to really learn bears at all, but this past spring confirmed some of my thoughts in regards to the large carnivores. We decided to hunt a mountain that we had struck out on before, and I know that will strike some guys as odd, but the fact remained; we had seen plenty of bears on this mountain, but snow conditions and physical limitations had hindered us before. We would find out that late April 2007 would bring some of the same again, for while the mountain had quite a bit of bare ground up high (which was appreciated), the creek bottoms still had plenty of rotten snow.

The first night in the main camp we spotted a decent bear about 1 1/2 miles distant, but it was close to 9 PM and of course the same day airborne rule prohibited hunting until 3 AM the following day, so we contemplated the situation. As we contemplated I informed one of my clients and his guide that they were free to travel the country toward the bear, but they could not actually hunt, or take the bear until after 3 AM, and I knew they could not make it over to the bear that quickly anyway, but having a bear spotted and heading in the right direction is supposedly better than just sitting around, right? Well, not always!

The guide and hunter left our spike camp around 9:30 PM and descended down the ridge, toward the creek bottom, where they hoped they would find a viable route across the mile plus tangle of alders. I felt a little guilty even suggesting they might want to try this, since darkness was coming on fast, and it would certainly be a long night at best, even if they made it. If being the key phrase here, and by 11 PM I felt real bad for the guys as sleet and snow pelted the side of the tents and the wind picked up to 30 mph or more.

Around midnight, or a little later I heard a voice coming from my other guide and client's tent, then I heard the poor guys making their way back into camp. It seems they had a difficult time finding the tent in what was close to a white out, even though they had taken a GPS reading a little more than a hundred yards from the tents while sitting at the spotting scopes earlier that evening. The creek bottom travel had simply become a nightmare with the alders and rotten snow conditions, not to mention the nasty turn of the weather. The guys had wisely abandoned plan A for the safety of the tent.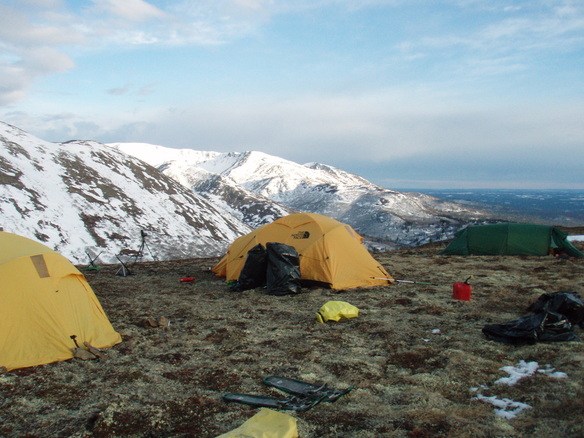 This is a fairly common experience in bear hunting, whether spring or fall, that is to say a bear is spotted, and a stalk may be made, but this doesn't mean you are going to get a shot, at all. As this hunt developed, I stepped in to guide for a few days for a client whose guide had to leave on a family emergency, and in doing so I came face to face with "No Bear Mountain."

Colby (my hunter) had labeled the mountain such because there had not been a bear spotted since the first day in camp, and now we were looking at 6 days under our belts, and the bears were just not showing up. Having doubts about the mountain, I still tried to keep Colby pepped up and confident that a bear could show up at anytime, but it wasn't looking great. I knew that one could pop out of a den at any moment, but I decided to call in the pilot and try a move up to the ridge. We would lose that day, but we would take the chance, even though it would mean we would only have one day left to locate and try to take a bear.

The pilot came in early enough the next day, and I hopped in the plane to make what would be a short flight of 2 to 3 miles from our position in front of "No Bear Mountain," and just to add some humor to our failure to find a bear on the slope we spotted a bruin just out of the den after about 3 minutes in the air. There it was, less than 1 1/2 miles from where we had just sat and glassed for the better part of a week. The blonde bear looked to be sitting right on its' den and even looked somewhat groggy as we passed over and did a high circle to take a second look. The amusing part of course was the fact that the day we were leaving the endless glassing of this bearless mountain, the bear finally showed up. It would be safe of course, since we were landing in a location that would put us glassing the other side of mountain that this bear just so happened to be on.

The Supercub put us on a high ridge around 3,000 ft. and proceeded to shuttle back to the other side to retrieve Greg (one of my assistant guides from our first camp) so he could actually guide Colby, while I hoped to get some film footage as they pursued another bear that had been observed on the other side of the ridge, so we spent the rest of that day scouting and trying to avoid the disaster of being winded by this new bear. We had seen a couple of different bears on this side of the divide from the other camp and we had a pretty good idea of where this bear was, but we made the decision to wait until morning to try to spot the bear on what would be the final day of Colby's hunt.

Around 4 AM the wind began to really rock my Hilleberg Kaitum. Colby and Greg were next door in one of the North Face Evolution 45's and I could hear their voices as they began to get things together for the morning move. By 5 AM the winds were blowing at sustained levels of 30 mph with gust that felt like 50 mph, and Greg came by the tent to let me know they were headed to the point right above the ravine we thought the bear was located in. I told him I would be along shortly and by 5:30 AM I was on my way in what was a nasty wind chill for this late April hunt. Temps hovered in the teens to low 20's, but the wind made all the difference in the world.

30 minutes later I maneuvered around the side of a point, expecting to find the guys, but I was greeted by a howling wind coming up out of the ravine with fierce intent. I could not find the guys anywhere so I settled into a fetal position behind a small rock pile and tried to glass down into the ravine. The wind was almost unbearable, and the only way I could glass was by laying the binoculars on a rock and holding down on them firmly while my fingers turned blue. The wind was almost constant at 45 to 50 mph and it made me feel like I was back in Cheyenne, Wyoming. That being said it only took me about 15 to 25 minutes to find what appeared to be a den and I could see one set of tracks that went no more than a hundred yards from the den. I could only try to squint for so long with tears coming from my eyes as the cold wind whipped up out of the ravine, so I did a search for the guys, but to no avail. I figured they had missed spotting what appeared to be the den and wandered off over the ridge. The truth is they were around 300 yards on down the rim of the ravine from my position and they had been hunkered in against the rocks as I had, so I had completely missed them.

Over the course of the next couple of hours I spotted two 3 year olds around 500 yards below, then I spotted what appeared to be a small ball of fur which materialized into what looked like a 2 year old on its' own. The spot that appeared to be the den entrance had finally got up and wandered around a little, and it looked like a decent bear, so I was somewhat pulling my hair out since I could not figure out where the guys were, or if they even knew the bear was here at all.

Fortunately they had indeed spotted the bear, and had watched closely to see if there was any cub activity, but it didn't take long to determine that this bear was all alone in his little circle. The problem for them was wind, and how to get close enough with the other bears snoozing between point A and B, without spooking the primary target.

I eventually gave up on the guys around 10:30 AM and returned the 3/4 miles to camp to warm up. I just missed Greg and Colby as they left the position below me and navigated all the way around to the other side of the ravine in hopes of getting into a better position, and possibly using the wind to get the bear to move.

As they made their way to the opposite slope they spotted a good sized blackie coming up the valley, which proceeded to get close enough to the brown bear on the den that the brown bear stood up and sent the black bear into a frenzied scramble back down the gorge. Not long after this the guys would have the wind at their back and the boar would catch their scent and make haste to get out of the country. Colby was cool and collected and put the bear down as it ran through the alders at 285 yards. I never heard the shot, but Greg made it back to the camp by 1 PM and I got my stuff together and went back with him to take photos and watch him and Colby bicker over skinning techniques as only two taxidermist can. It was comical to say the least, but the guys enjoyed snowshoeing the bear hide back up out of the ravine and Colby's patience was rewarded, on the back side of "No Bear Mountain."

Tony Dingess