Rating: August 2010-February 2018
The Simms G3 Guide Pants have solved most of my concerns about keeping my lower body dry in Alaska. I replaced the old Cabela's waist highs after watching Jeffery Tart wearing a 6 year old pair of the Simms while guiding sheep hunters for me in 2009. Jeff had been wearing them for years in the Brooks, even while guiding sheep hunters, and I figured anything that could stand up to the abuse that an old Army Ranger put them through for all of those years, well it had to be worth a try for my brown bear, and moose hunting conditions. Mind you, I still haven't converted over to wearing them in sheep country, but I do live in them on all other hunts, at least any hunt where water is going to be the norm.
A The first great feature about these pants/waders is they actually come in logical sizes. These are not a small/medium/large catch all pant. I wear a 32″ waist, and a size 12 shoe, and these pants come in a range of around 10 sizes, and if you call them up they will determine what you need by inseam length, waist size, and if you need a larger stockingfoot, they sew on the correct size (a $50 custom procedure that is not offered by bargain stores). The sizing for me ran a little restrictive on the inseam, so I would probably recommend getting the inseam a little long, but these fit far more like a pair of jeans than the Cabelas I had used in the past, which were more like a pair of clown pants, with the puffy legs and oversized waist to accomodate a size 12 boot fit.
The Guide Pant is absolutely incredible when it comes to busting through the brush, and devil's club, and I have yet to develop a leak on my first pair, and this is after probably 70-90 plus days in the field use, including trapline use here at home. They are not overly heavy and I get by 90% of the time with just Simms Waderwick bottoms underneath these, or my Gore cycling tights when it is cooler. The fit is good enough with mine that I don't have to wear the belt, which I remove because it annoys me when I have a backpack on with a hip belt fastened. Also it may not seem like much, but having the front pockets and zippered fly is very nice.
When it is all said and done, there is no intelligent reason for hipboots any longer, at least not for me. These pants perform all of things I would require of rainpants in bear and moose country, plus you can confidently wade in depths that you would not even think about with hip boots. If you go down, and regain your footing quickly, you are probably only going to have a trickle of water seeping inside, where the old hip boots were notorious for creating havoc if you went over the top of them.
I really have to give them 5 stars, although I do have to say they are expensive for a one time use, but I really can't come up with another legitimate complaint except they have done away with one of the front pockets which is annoying, but I can't hardly downgrade them for this!

GORE-TEX® 5-layer fabric featured throughout legs for increased durability
Double snap waistband closure with YKK® AQUASEAL® waterproof zipper fly
Hand pockets feature water-resistant zippers
Built-in, adjustable 2" elastic belt
Improved abrasion-resistant material for more durable built-in gravel guards
3-layer & 5-layer GORE-TEX® Pro Shell Technology
Approximate weight: 38 oz
Every pair made and tested in Bozeman, Montana, USA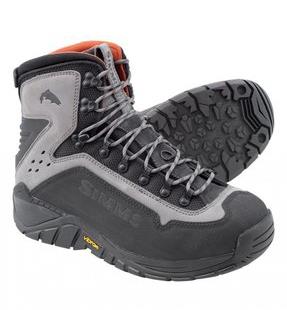 I personally use the Simms Guide boot (wading boot) and find it a very efficient choice for climbing up through alder patches, across tundra, and even boulder piles, and it dries much more quickly than a conventional boot, and does not deform, or stretch when wet. I should also comment as of 2016 I actually used the G3's and the G3 Guide Boot to climb over 1,800′ while retrieving a ram that a client had dispatched earlier and I have to say the boots were far more comfortable than my old Trangos which have since been discarded for a newer design and larger size.
Back to Gear Reviews