Rating: May 2012-February 2015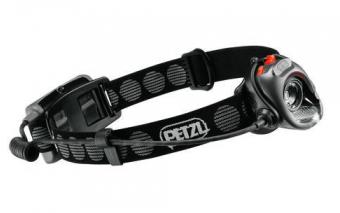 The Petzl Myo RXP is the newest generation in the Petzl Myo ranks, which I have been using since the spring of 2006. After a comparison of the Princeton Tec Aurora and the Petzl Myo (original) it was evident to me that there was no comparison. The Princeton Tec is fine for a backup, but it simply doesn't have anywhere near the candlepower of the Myo, and the new Myo RXP continues this great line.
I won't post all the technical details of this great little headlamp, but it has around 86 hours of battery life on the lowest setting, and it has around 10 total settings, with a beam that will reach around 250 ft. on high. It has a strobe for emergencies, and the lowest setting is more than adequate for use in the tent at night, and the highest setting puts out 141 lumens, with a boost setting that puts out 205 lumens. Compare this to the Surefire handheld EL2 Outdoorsman that puts out 60 lumen for only 6 hours, and you can imagine this is a pretty impressive little light.
I use the headband without the additional strap that goes over the top, and it rarely seems noticeable at all to me, and honestly with 3 lithium AA batteries, I rarely ever have to change batteries on a 10 day hunt in Alaska, nor do I worry about it getting wet, and the bulb doesn't need to be replaced.
A flip lens cover allows you to go from a diffuse lamp perfect for walking in most terrain in pitch darkness, and flipped down it goes to a very intense focused beam when you really need it.
Overall I give it a four stars only because my original eventually developed a short in the wiring, and it is put together in such a way that I could not get it apart to repair it! Of course it probably needs to be to be weatherproof, so I probably am not being fair. They are not cheap at $90, but I can't complain considering the Surefire model I mentioned retails at $235!
For technical details, please see the Petzl website.
Back to Gear Reviews