Rating: August 2006-February 2015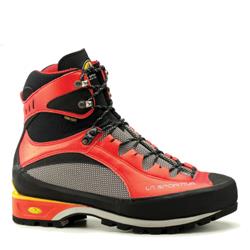 These boots are simply the best thing I have had on my feet over the years, and I can recommend them wholeheartedly to clients looking for a top notch boot for everything from sheep hunting to whitetails in the eastern woods. The Trangos are available in several different variations, but I can only speak for this particular style. The first thing I thought about the boot is "Wow! This is incredibly light, but stiff." I wasn't in love with the lacing initially, and I thought the fabric portion of the upper may not last long, but I haven't had a problem with either. I bought my first pair right off the shelf in REI in Anchorage and proceeded to go straight into the mountains and up a 3,000 ft. climb through nasty alders and into the loose shale of the Chugach Mountains. During the next 8 days I climbed (along with my client) around 7,000 to 8,000 more vertical feet, and descended of course and I never got the first blister in these boots. I wore the blue Superfeet insole (suitable for low arches or flat feet) and Thorlo Light Hiking Socks (Coolmax) and I was hooked. I haven't had to pack an extreme load with these yet (80 lbs. or more), and they are obviously not going to offer the same stiffness and protection of a heavier boot like the Nepal Extreme, but the trade off is worth it in my mind. The light weight, 26.17 ounces reduces a lot of strain on the feet during a sheep hunt, and they are not nearly as hot as some of the heavier boots, which is especially nice during August hunts that can easily hit 70 degrees. Do I have any issues with these boots? They could be as stiff as the Nepal Extreme or Koflach Degre to provide more potential protection, but then you would lose the great agility of the boot. They are very nice in the tights spots on bad terrain, or on a potentially nasty rock face, and the soles have better than average grip in this type of terrain, although they are quite slick in the grass. My only real complaint is the lack of the true locking ball bearing lace on the Nepal and this means I will have to tighten the boot at least once or twice a day. The soles are softer (for better grip) than some heavier versions of the Trango, but mine has seen around 20,000 vertical feet of climbing already so I can't complain.
Overall, great boot at around $285, which is still substantially cheaper than many comparable $400 boots. I figure I will pick up another pair this year.
Back to Gear Reviews