August 2003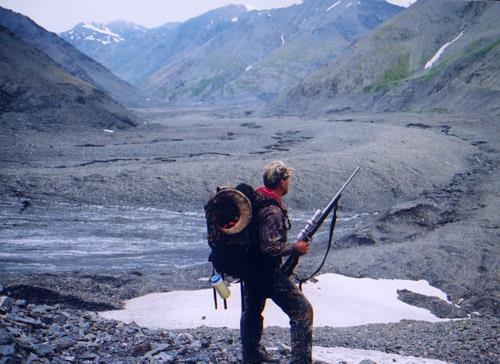 After using an external frame backpack for years (with occasional use of a small North Face internal frame), I broke down and purchased the highly touted Kifaru pack this summer before sheep season. I always enjoyed the way my smaller North Face internal frame rode, and I like the maneuverability that I had with the internal frame. Derek Harbula (a client that took a Peninsula brown bear with me in 2001 and a 40″ ram this August) had purchased the giant 8,500 cubic inch model and he had did some packing with 160 pounds of concrete mix (if I remember correctly), and he had positive comments about the pack. Based upon the rave reviews on the Kifaru site and elsewhere, and Derek's testimony, I came into sheep camp with the 7,200 cubic inch model. I will start by saying I never believed it was 7,200 cubic inches, and no I did not take any measurements to disprove this, but if it is, then my Camp Trails Outfitter pack is close to 10,000 cubic inches. I wore the pack around home with around 40 pounds and I did not like the feel from the start, but I thought I would give it a chance since they also have a 30 day hassle free return policy (I will know in a few days). Packing a load of around 60 pounds 3 miles or so into sheep spike camp felt relatively okay, but I thought the belt was very thin (along with the shoulder straps), and it seemed to ride quite hard on the sides of my pelvic bones. I used the pack for this initial move up into spike camp, then I wore it with around 25 pounds for several days of climbing and stalking rams, and packing 2 rams back into spike camp. The last ram was split between Derek and me, and the 60 pounds or so once again rode quite hard on my outer pelvic bones. Now mind you, I have been in this business for over 8 years, and owned backpacks for a long time before this and I pretty well know the ropes for getting a pack adjusted, and also how to load. I had the Kifaru riding correctly with virtually no weight on my shoulder straps, and all the weight transferred correctly onto my hips, but the belt was simply miserable in my opinion. I kept thinking about how comfortable the old Camp Trails Outfitter pack I have had always been on my hips, but the Kifaru just did not let up. The next day, Derek and I packed our entire spike camp, sheep meat, etc. the 3 odd miles back down the river, and this is where things really got ugly. My pack simply punished my hips severely with what I estimated at 85 to 100 pounds and I easily decided that my old external rode far better than the Kifaru ever would. I decided that my pack would be returned back to Kifaru, since I had only received it in early August, and I would be back home before the end of the month. Unfortunately Derek would not have that option! Derek was packing probably around 25 pounds more than me, and his pack basically disintegrated! The plastic back panel, that was enclosed in some skimpy type fabric had totally ripped free and was protruding upward and onward out of the thin fabric that was apparently meant to retain the panel in place. Derek found the rear padding that rested against the top of his pelvic bone in the rear to be unbearably thin, and of course once the plastic panel that everything attaches to broke free from the material, the pack actually was riding almost sideways on him before we got back to the airstrip. In all honesty, I would have thought my deal was simply a lemon deal, and that maybe my body had some odd shape that didn't fit the pack right, but after Derek had such a miserable time with it, I concluded that it wasn't just me. I fail to see the value of this pack that cost well over $400 now without any additions. I am sure some guys have had a good experience with them, and I certainly will not suggest that anyone is lying about their experiences over on the Kifaru website, but most guys drastically overestimate the weight they are carrying, and wearing a pack through a sheep season in Alaska isn't the same as simply wearing a pack on any old hunt. My pack actually showed signs of wear on the bottom in less than 10 days and the interior separator panel ( a ridiculous little panel that separates the main top compartment from the lower bottom of the pack, with 2 stitched points and 2 velcro loops) had tore loose by the time the 100 pound load made it down river. Of course my pack looked great compared to Derek, and if Derek had had 175 pound load, the pack would made it less than 2 miles I'm sure. To sum up my feelings, I just don't believe that anyone has packed seriously heavy loads (loads of 100 pounds or greater) over seriously rough terrain with these packs, and still have the audacity to compliment them. If they have, then in my opinion they are fortunate. I simply can't believe that one of these packs could survive 40 days of sheep hunting in Alaska, which I have had to pull before as an assistant guide, and I cannot recommend them at all. My little 3500 cubic inch North Face internal frame did a much better job of packing 60 plus pounds before, and if I purchase another internal frame I will try The North Face Stamina 90 with 7,020 cubic inches in their large pack size. All in all, based on the performance of my Kifaru and my clients, I give them a score of 1, which is a little better than a frame-less military duffle bag. Part of this low score is stems from the fact that the pack had no adequate outside pocket for a spotting scope or tripod either, which was very frustrating for a pack supposedly designed with hunters in mind? Having to open the top and get down inside the main bag every time I stop to glass is not a good way to make serious hunters that use spotting scopes happy! After speaking with someone in customer service that apparently knew something about the packs at Kifaru I was told that I needed to adjust the internal stays to accommodate my narrow pelvic area, but even if this had cured the problem of the bad ride, it would not have did away with the fact that I saw material failures in both mine and Derek's pack! Folks I'm sorry, but I just can't find anything to get excited about here!
Update 9/16/2003
After trusting the Kifaru company's website offer;
"We realize that buying something like a backpack can be rather difficult when you cannot touch and feel, try on and try out. So, we'll make you this deal. Buy one of our packs, and if you don't like it, just return it within 30 days in good condition for a refund. But we think you'll hang on to it – for life!"

I returned my pack after 6 days of sheep hunting, and they refunded my purchase price, minus $111. To say the least I am totally disgusted with this outfit. I have never had another company deduct anything for a returned product, including boots that I wore for 4 months one winter that were returned to Cabela's for a full refund! So not only did their product fail to meet my expectations, they utterly failed to keep their end of the bargain. Make your own judgments folks, but the pack had a few abrasions on the bottom, and the stitched corner of the compartment divider broke loose, and anyone else between Cabela's to Campmor, or even REI would have refunded my major investment without a hitch, at least that has been my experience.

Update 9/21/2003
Tonight I came across a response from Patrick Smith (the owner of Kifaru) on the Alaska Hunting Forum where I had posted a brief message about my thoughts on the Kifaru packs. The following is from Mr. Smith's response to my criticisms:
"Tony– I received an email from a customer that somebody on this forum had complaints about my gear, so I came to investigate. Yep, looks like you have some complaints. Went to your website and read the whole story there too. We'll get to the "partial" refund in a minute–I'm still trying to sort that out myself (I'm in the field a lot and missed this thing). As for the fit issue, I'm the guy who called you after you sent the pack back to explain our fit service to you. I found out during our conversation that you are one of the 3 or 4 percent of guys who are "hipless", that is, who have very little lumbar region. (It wasn't that you were "too narrow in the pelvic bones"–in fact that is irrelevant.) I told you we could have had you flatten the packs stays for an instant cure. I note you wore it around at home and didn't like the feel. We try to make it clear in our literature that we offer personal fit service–just pick up the phone and dial our 800 number. Virtually all of the rest of the guys without lumbars have done exactly that and we had 'em fitted to perfection and ready to roll in short order. You didn't, and we both lost out. The result is that too much of the weight rested on your hips. The full length of the lumbar pad–which plays a major weight bearing role–was NOT coming in to play. Only a small band right in the middle was involved. This is the way large internal frame packs work, and we missed the chance to make this happen in the case of your special anatomy. This part of your problems had a surefire solution–that misfired. I sure wish you had called. The facts on our fit are these: we are DIFFERENT in our approach, and are completely up front about it. We build for anatomical correctness, not Showroom correctness. Thinner is better when draping a man's anatomy, if you have the angles and the shapes and the distances right. And we do. Far too many of the Guides and hard core hunters of all stripe up your way are using Kifaru packs happily to accept your ill-fated experience as accurate. And camp and a load of sheep parts weighs the same for everybody, so they're not exaggerating the weights they've been carrying for years with my packs. Speaking of years, these men are reporting far better durability with our packs–hammering them for five or more years–assistant guides and all–and they're still ticking–much longer than any other top brand they've ever used. I'm not trying to pull your chain, Tony, I'm really just sorry as hell you didn't phone us for that final nudge in fitting you needed. I think the added tearing loose of that sleeping bag divider corner didn't help your disposition any following the fitting mishap (which perhaps helps explain your double barrel blasting of us in public). That tear has never happened before, which is no excuse it just points out that some minor glitches accrue to even us. And I apologize for it. But I must point out the simple truth that this glitch didn't stop you in your tracks. We have NEVER had a genuine pack failure–anywhere on earth. I'll say again–I sincerely wish you had phoned us before things came to this. As for the abrasion on the bottom–we use double-layer Cordura there, no Kifaru pack has ever come close to wearing through, including the ones used constantly by sheep outfitters, and one should expect some abrasion to be evident after a sheep hunt with any pack. If somehow the bottom of one of our packs does ever manage to wear through just send it in for refurbishing. At the end of your season of course. These packs simply do not fail catastrophically. Ain't gonna happen. Too much field evidence proves that conclusively. And I guess we're going to have to agree to disagree about the best place to store one's spotting scope. I submit that where I designed the pack to carry it is just as fast to get to, and far more protected than on the outside. I would never carry my scope outside the pack on a sheep hunt. Maybe I'm just too clumsy at my age, eh, but I'm quite serious about the inside back being the best place for it, which is why I put the carry pocket there. We have optional outside pouches…carry your scope there at your own risk, my friend. Let's talk about your client's Rendezvous pack, which you reference on your website. First of all, that wasn't a failure either. Derek has not returned his pack. I imagine he figured out what happened and "fixed" it pretty quick. Rarely, a hastily loaded and/or very full bag will get bumped up at one corner or the other where the bag slips over the removable framesheet. Under load the bag can then slip away from the frame at the top somewhat. But it CANNOT actually fall off the frame–the center panel of hypalon (the same stuff they build rafts out of and far from flimsy) keeps the bag from going anywhere. The solution to this slippage is to work the bag back over the framesheet, pull it down snugly and proceed. That's it. And it's rare. Consider the occassion this might possibly happen as a function of the usefulness of our removable frames. Your use of the word "disintegrate" tells me you were really, really pissed about that fit on your pack, Tony. Derek's pack did not disintegrate at all, and he's still using it.

Here's an offer, man to man: Kifaru is exhibiting at the Alaska Sportsmans Show next April. You come see us and I'll buy the refreshments. AND we'll show you what our packs feel like when they're fitted to that flat-backed body of yours correctly. Deal?

Now for the infamous partial refund. Here is some background: Kifaru is a small outfit, and much less able to absorb a certain type of return abuse. It is evident that SOME hunters are buying our high-end, custom-built packs for that first-time, once-in-a-lifetime backpack hunt, going on the hunt, and then returning the pack as a method for defraying the cost of the hunt. They typically are not true backpack hunters in the first place, and likely won't be in the future. Get the picture? Our policy of returning the gear in resalable condition has been a reluctant attempt to cut down on this abuse. The situation is similar to buying a Prom dress and then returning it after the Prom. Dress shops have been forced to either have a no-return policy, or to issue in-store credits. But we are not a "store", and folks all over the world buy our gear. Hence the try-it-out offer we make, which also asks that it be returned in good condition-to try and weed out the after-the-prom abuse. In point of fact, this policy has never actually been enforced-it's just been acting as a bit of up-front deterrent. Apparently, our Controller decided to enforce it (not knowing of the divider failure – we simply were not notified), and got the wrong guy. I say the wrong guy, because you, Tony, do not fit the profile of the one-hunt fellow at all. Big mistake, and your money is on its way to you now-with our apologies. So. What do we do now? We are having meetings to evaluate all of this. The Kifaru staff, by the way, is a stand-up group-they are deservedly famous for outstanding customer service, but at the same time really chapped when they perceive that they've been abused. It consumes many resources to custom build a one-trip pack, and they resent the unfairness of being more or less tricked. One idea from our staff meetings is to offer rental packs for those folks who don't think they'll use a top notch hunting backpack often enough to justify buying one for keeps. Not a bad idea, eh? So we're evaluating all of this.

It is exceedingly rare, Tony, that anyone has a bad experience with Kifaru. We know because we hear from lots of folks who are happy with both our gear and our service. We wouldn't be here if we didn't treat folks right the vast majority of the time. I invite comment from you folks. Feel free to email us at [email protected], or heck, just post whatever you think right here. You now understand a troublesome issue we're grappling with, what do YOU think we should do about it? What's fair?

I suspect that a bunch of the readers on this Forum know that we DO stand behind our gear. I think that's about all I have to say. I trust you, Tony, and you readers will take it in good faith. I think we've earned a reputation for that. This is a good hard-core Forum, and I hope to read here again."

Seeing that Mr. Smith has taken the time to respond to my public criticisms with good taste, and has assured me that the partial refund was simply a mistake, I feel that my readers should weigh my review carefully in the balance. Readers should be aware that I am not the final authority on any product, rather I simply relate my experience with a given product, and in this instance I will give Kifaru the benefit of the doubt when it comes to the potential of their pack if properly fitted, and I should have consulted their staff to insure a proper fit after I had my initial problems. As of this writing I am considering testing a Kifaru pack again, and if the pack can be fitted to my body, I will update this whole review again. I am impressed with Kifaru's personal interest in my case, even if it self-serving, since most companies could care less if I blast their product or not, and individuals that have followed this entire review process may end up surprised that a manufacturer actually may have an interest in the actual consumer.

Update 10/23/2003
Another chapter in this long review comes down to my offering to try the Kifaru pack once again on the Peninsula during brown bear season. I requested the larger Rendezvous pack and Patrick Smith got it out to me in due time, and after a long time on the speaker phone he got me educated as to the right way to get this pack to fit my body. The process involved marking the point at which the aluminum stays curved away from my back, then bending them in a vise to match the actual contour of my back. This did exactly what Mr. Smith claimed it would, and yes the pack did fit perfectly fine after this. The only heavy load I have packed with it was a very wet 8 ft. brown bear hide which weighed approximately 80 to 90 pounds. the pack handled the load correctly, and the miserable pressure on the sides of my pelvic bones was totally absent. As for the other complaints about the lack of external pouches for items like spotting scopes and tripods, well they do offer these as options, but I still feel they should be standard, but this is just my take on the deal. As for the abrasion on the bottom of my pack I was assured that Kifaru would repair it if it ever wore through, so I can't really complain about this. Derek's problems with his pack were probably related to an improper fit, but I will let everyone know what the outcome of his situation is when we get it resolved. As it stands now, I will be keeping my pack, since I am a fan of internals for their ability to ride smoother with my movements, and their ease in the brush, and I will let everyone know how it handles some loads here in the mountains around my home. Ultimately I still have some testing to do with this pack before I can be really objective in my rating. I should say of course that my former blistering comments were made after the partial refund fiasco on this most expensive pack I had ever purchased, and I probably took things a little too far. I will be continuing the review after the upcoming 2004 season, and hopefully we will be able to report overall good performance.
Final Comments May 2007
When everything was said and done, we put the Kifaru's on eBay. Ultimately I simply could not handle the super thin waist belts that constantly created pain in my outer pelvic area. Heavy loads simply were painful, not only for me, but for others among us as well, and in all honesty, my old $99 Camp Trails Outfitter pack was much more comfortable over the years. As of May of 2006 I have used the Mystery Ranch G7 out of Bozeman, MT and I am witholding a serious review until this busy year of hunting is over with.
Back to Gear Reviews