Rating: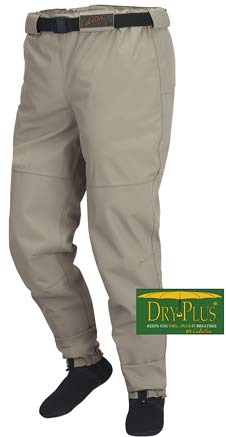 After a number of years of frustration with normal ankle fit hip boots I decided to try the breathable waders and I can unequivocally say I prefer them over hip boots. This being said, the Cabela's waders shown above were pretty disappointing. The biggest disappointment is the sizing structure which is absolutely absurd, but standard throughout the industry. What I am referring to is the fact that if you wear a size 12 shoe, they assume you will need a wader with a 42 inch waist, therefore you get the equivalent of clown pants. I had to have the excess material around the waist removed by a seamstress before I even traveled to Alaska, and this did nothing to help the excessive size of the legs. The excess material rubbed at the knees while walking and within 20 days in brown bear camp, the material finally wore through, and I consider this a pretty big problem, and my second biggest complaint, after the sizing fiasco. Comfort was great in comparison to hip boots, and they make for a much more comfortable pair of rain pants, rather than the 3/4 length parka and hip boot combo necessary to keep the rain out of the top of the boots. I wore these with a normal pair of Vasque lightweight hikers, one size larger than normal, and I had little to complain about in this area. Simms previously sold a waist high breathable that would have been super, since they would put whatever size stocking foot on it that a person wanted at the factory, but they have discontinued all waist high models, so this isn't an option. I am looking at traveling to Cabela's again to see if I can wear a size smaller stockingfoot than what they recommend, but I can only say for now, the choices are limited, and I will buy these again before I go back to hip boots, but I am not happy with the options.
Update 2/3/2018
In early summer of 2010 I discovered that Simms was indeed making a waist high wader once again, the G3 Guide Pant and I quickly enrolled in their guide program and jumped on the band wagon with anticipation. I was not disappointed, and I can only suggest the Cabela's waders to those who simply don't want to put down the cash for the Simms.
Hopefully I will get a review and some photos up before long, but the Simms actually fit like a pair of pants, without the excess material and I went the route of having the custom size neoprene stockingfoot put in because I need a medium wader with a size 12 foot. Anyway they are a world apart from everything else I have worn at this stage!
Back to Gear Reviews